An 18-year-old, heavily armed gunman wearing body armor killed 10 people outside and inside a western New York supermarket Saturday afternoon in what law enforcement called a racially-motivated attack.
Three other people were wounded, officials said at an early evening press conference, but are expected to survive.
Payton Gendron of Conklin, New York, was arraigned Saturday evening on a charge of first degree murder and ordered held without bail, WIVB said. His attorney entered a not guilty plea on his behalf, and he's due back in court on May 19.
Erie County District Attorney John Flynn said during the news conference he drove "several hours" from another New York state county — Conklin is more than 200 miles from Buffalo.
Erie County Sheriff John Garcia, FBI Special Agent in Charge Stephen Belongia, and the US Attorney for the Western District of New York, Trini Ross, said the incident was being investigated as a hate crime, with the feds saying it was "racially motivated violent extremism" that fell into the FBI's counter-terrorism purview.
"This was pure evil. It was a straight up racially motivated hate crime," Garcia said. "Somebody … coming into our community and trying to inflict that evil upon us."
Ross said her office would be investigating the incident as both "a hate crime and domestic violence extremism."
"We need we will not stop until justice is brought to this community, to these families and to these victims," she said, adding that such heinous crimes "shouldn't happen to anyone, anywhere."
District Attorney Flynn said that he was initially charging Gendron with first degree murder but that hate crime charges would likely come later.
Investigators already have "certain pieces of evidence … that indicate some racial animosity," he said, but declined to elaborate.
Buffalo Police Commissioner said Joseph Gramaglia said that the suspect livestreamed his actions. Gramaglia said he shot four people in the Tops supermarket parking lot, then went inside and shot nine more. A retired Buffalo police officer, working security for the store, engaged the gunman and shot him, Gramaglia said, but the suspect's body armor kept him safe, and he shot and killed the security officer.
The Daily Beast identified the security guard as Aaron Salter Jr, who had been a 30-year veteran of the Buffalo Police Department. He had worked at the supermarket as a security guard since his 2018 retirement.
Gramaglia said four employees were shot, but the security guard was the only fatality among them.
The gunman worked his way through the store, the commissioner said, and when he returned to the front, he was met by Buffalo police officers. The suspect initially put his weapon up to his chin as if he were going to shoot himself, then officers persuaded him to surrender and he put down the gun.
After taking off some of his body armor, police took him into custody and whisked him away from the scene.
Witness Braedyn Kaphart told the Buffalo News that she witnessed the arrest.
"He was standing there in his military gear with his weapon to his chin, looking like he was going to blow his head off," Kaphart said. "We weren't sure what was happening. As he continued to do that, he dropped to his knees still appearing as if he might shoot himself."
Kaphart looked away for a moment, as police told them to get back to their cars. When she looked again, police had tackled the man.
"I turned my head and back around as the police were telling us to get back in our cars," she said.
The manifesto is 180 pages long, but dozens of pages are nothing more than anti-black and anti-Semitic memes and statistics and almost 100 pages contain mind-numbingly boring info about every piece of equipment he considered taking on his shooting spree.

— JJ MacNab (@jjmacnab) May 14, 2022
Extremism experts and some news outlets reported that the suspect, who declared himself a white supremacist and anti-semite posted a 106-page manifesto espousing the "great replacement" conspiracy.
"If there's one thing I want you to get from these writings, it's that White birth rates must change. Everyday the White population becomes fewer in number," the document says, according to BNO News. "To maintain a population the people must achieve a birth rate that reaches replacement fertility levels, in the western world that is about 2.06 births per woman."
BNO said the suspect streamed the shooting live on Twitch, and WIVB reported that he had a racial slur written on his weapon.
Twitch confirmed that the shooting was livestreamed on the platform and said they had removed it:
"We are devastated to hear about the shooting that took place this afternoon in Buffalo, New York. Our hearts go out to the community impacted by this tragedy. Twitch has a zero-tolerance policy against violence of any kind and works swiftly to respond to all incidents. The user has been indefinitely suspended from our service and we are taking all appropriate action, including monitoring for any accounts rebroadcasting this content."
The Tops supermarket is in a heavily African-American area, and Gramaglia said that eleven of the thirteen people who were shot were African American.
Buffalo Mayor Byron Brown, flanked by multiple elected and appointed officials from the Buffalo and Erie County area, noted that many officials "know this supermarket very very well."
"Many of us know some of those who are victims of this horrific crime," he said. "This is painful. This does hurt."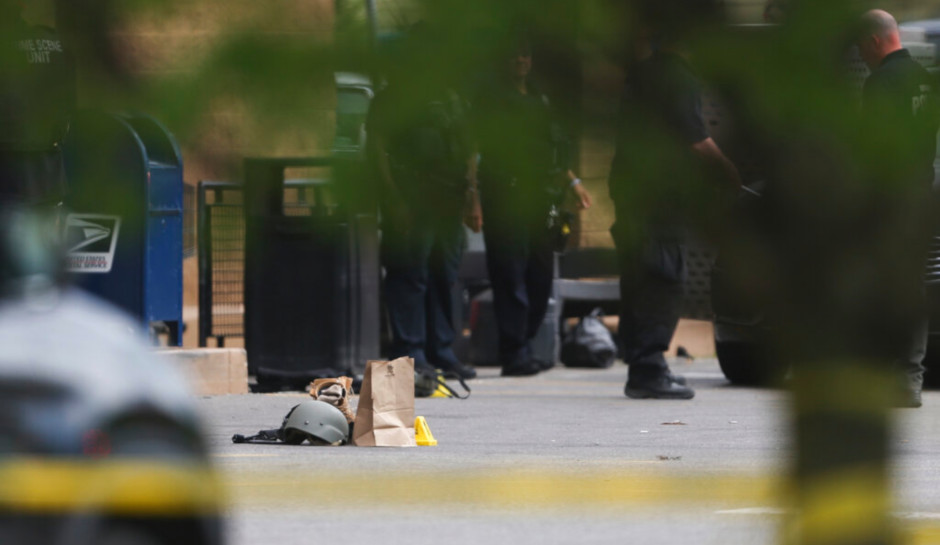 "This should not happen in this community or any community in this country."
US Attorney Ross, a native of Buffalo, said that she was hopeful the tragedy would "bring us together and not tear us apart."
"We're going to let them known what Buffalo will do to make sure this type of crime is stopped," she said.
For the latest true crime and justice news, subscribe to the 'Crime Stories with Nancy Grace' podcast.
[Featured image: Police secure a perimeter after a shooting at a supermarket, Saturday, May 14, 2022, in Buffalo, N.Y. (AP Photo/Joshua Bessex)]

link