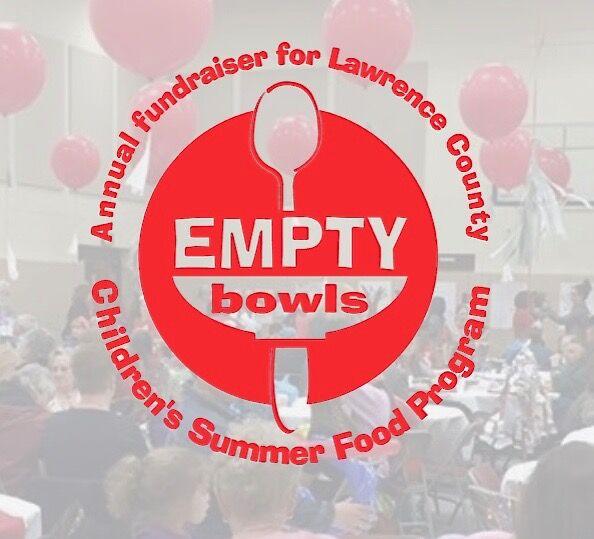 The symbolic filling of an empty ceramic soup bowl means that a hungry child will get a free lunch this summer.
For a couple of years, soup bowls were filled only as takeouts via drive-through at the annual Empty Bowls event, because COVID-19 prevented any socialization.
This year, Lawrence County Empty Bowls, a fundraising soup dinner program with other festivities, will be back in full swing in person, from 3 to 6 p.m. Saturday in the New Castle High School cafeteria.
Tickets for the soup supper are $10 per person, and include a free handmade ceramic bowl, soup, bread, cookies and a chance to win prizes. Those attending also will be spectators in a cook-off between two student sports teams.
And although the event is eat-in, takeouts will be available.
All proceeds from will benefit the Lawrence County Summer Food Program, which provides free meals to children during summer months.
Empty Bowls over the past nine years locally has grown to involve the entire community, with some well known public figures doing the serving and more than 30 local restaurants donating five gallons of soup each, of different varieties.
"We take whatever the restaurants offer," committee member Wendy Norman said, noting that all of the soups are quite tasty.
The cookies are baked by local church women and by Jeremy Bergman, director of food service for the New Castle Area School District. Bread for the event is contributed by local baking establishments.
"Everything is donated," said Raquel Flora, a New Castle art teacher who is chairwoman of the event.
During the evening, the New Castle boys baseball team will face off against the girls softball team at 5 p.m. for a "Chopped"-style cookoff in front of attending spectators. Each team will be given a box of food provided by Bergman, and will be expected to concoct a dish from it.
Other features will be ticket sales for a basket raffle and a 50/50 drawing.
Craig said she has reached out to businesses and the community for donations of quality baskets to be given away during the raffle, and some have come from a long distance.
"It's surprising who comes through for us and how much they give," she said.
The handmade ceramic bowls for the event in the past were made by New Castle students and the Hoyt Institute. But because of COVID, the bowls were ordered this year, and the students will be painting them, Flora explained.
Craig noted that the event sold more than 400 tickets the last time it was held in-person. The school cafeteria seats more than 500, so space is not a problem, Bergman said.
The school board has given its approval, also, for the event to take place in the high school building.
The organization has a website where people can donate funds, become a sponsor with advertising advantages, donate or a basket or buy tickets for the event, at lcemptybowls.com. Those wanting to attend also may contact any committee member for tickets, and tickets also will be sold at the door.
The New Castle High School musical, Grease, also will be presented that night in the auditorium, so Empty Bowls attendees can opt to attend the show after dinner.
The musical will be presented at 7:30 p.m. Thursday, Friday and Saturday.
Members of the Empty Bowls committee, in addition to Flora, Craig, Norman and Bergman, are Sally Vernon, Carol Meyers, Amy Meyers, Debbie Byers, Lydia Logue of the Pittsburgh Food Bank, and Roseann and Dave Tomochek.
Lawrence County Empty Bowls is a 501(c)(3) organization formed to raise funds to feed children. All of the proceeds go to countywide summer food program and none of the money funds any salaries, according to the committee members.
Empty Bowls is a grassroots fundraising movement nationwide.
The all-volunteer program started locally nine years ago when a committee of volunteers helping with the Greater Pittsburgh Community Food Bank got together to raise money for the local children's summer free lunch program, "because they knew of children in the summer who weren't getting enough food," explained committee member Anna Craig of Neshannock Township.
A letter Flora sent to potential banner sponsors for the fundraiser explains that once children leave school for the summer, many are uncertain about where their next meal will come from.
Several local churches and organizations participate in the summer foods service program to offer free meals to children during summer months.
The letter indicates that more than 93,000 free meals were served to children and teens in Lawrence County during the summer of 2021 because of the program. and while the program receives a small fixed reimbursement, the amount does not cover all of the costs.
Last year, because the local volunteers persevered through the pandemic, Empty Bowls raised more than $5,000 for the event as a drive-through only.