The campaign to curb food waste in South Florida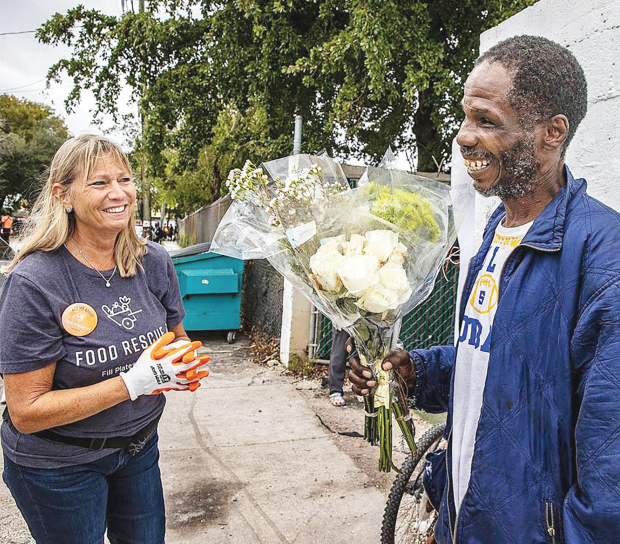 MIAMI — Ellen Bowen is on a mission to combat food waste in South Florida — a campaign that not only feeds the hungry but, perhaps surprisingly, can also help curb climate change.
Bowen is the founder of the South Florida chapter of Food Rescue US, a group of 1,000 local volunteers that collects perfectly good food that would otherwise be thrown away at grocery stores, restaurants and events and delivers it to churches, shelters and food pantries across the region.
They've salvaged wagyu beef sliders from the VIP suites at Miami's Formula 1 race, filet mignon from a medical conference at the Fontainebleau and an untold number of eggs, waffles, bacon and other unused food from the end of Sunday brunch services at upscale restaurants across South Florida.
They take it all directly to places like Camillus House, Lotus House and the Miami Rescue Mission.
Bowen estimates her group has saved more than 5.7 million pounds of food since it started in 2018 — and that's just a tiny portion of what gets tossed nationally.
Third of food is wasted
Roughly a third of food in the U.S. is wasted, according to a 2010 study from the U.S. Department of Agriculture. That wasted food "contains enough calories to feed more than 150 million people each year, far more than the 35 million estimated food insecure Americans," according to a 2021 report from the U.S. Environmental Protection Agency (EPA).
But wasted food carries other hidden costs. It all has to be fertilized or fed, harvested or slaughtered, packaged, transported and often refrigerated. That's before the uneaten food is trucked off to a landfill to rot and belch methane — a planet-warming greenhouse gas that, over the course of a century, is 25 times more potent than carbon dioxide.
Roughly 8% of global greenhouse gas emissions come from food waste, according to the EPA. That's more than the aviation industry, which contributes just under 5% of total greenhouse gas emissions.
"I started this…four years ago, primarily to rescue unused food and get it to people that are hungry," said Bowen. "What I've learned is that that's not the only benefit of reducing food waste. Actually, the environmental impact has really become my focus."
Volunteers to the rescue
Food Rescue US relies on volunteers like Jane Marie Russell, head legal counsel for a tech company called OpenText, who has been volunteering with the group since Bowen started the South Florida chapter in 2018.
On a recent Saturday morning, Russell backed her car into the loading dock for a Trader Joe's in Coral Gables.
Trader Joe's employees greeted her and began carting out boxes and boxes of groceries. She crammed as much as she could into her trunk and backseat: bread, eggs, milk, cold cuts, strawberries, lettuce, carrots, pasta, rice, baked goods, chips, prepared sandwiches — all of it still fresh and unopened, but pushed off the shelves by newer inventory.
On this day, Trader Joe's workers even brought out bouquets of flowers still in full bloom.
Russell is there every Saturday morning.
In the parlance of her volunteer group, she has "adopted" this rescue, picking up groceries at the Coral Gables Trader Joe's and whisking them up I-95 into Liberty City, where she drops them off at a community food pantry known as the Village FREEdge. (It started out as a single refrigerator in 2020, which is the inspiration for the name, but has since grown into a fullblown kitchen that serves 250 people a day.)
A lean operation
All of Food Rescue's pick-ups happen this way: A volunteer drives their own car to a grocery store, restaurant, hotel or event venue, and then takes the food directly to a recipient somewhere within 10 miles. It's a lean operation. The group itself doesn't own any trucks or operate any warehouses.
About 100 of Food Rescue's South Florida volunteers have adopted a set route that they run every week. But there are also sporadic pick-ups: The group has a website where organizers can find volunteers for last-minute rescues whenever a big event ends with tons of uneaten food or restaurants find themselves at the end of the Sunday brunch rush with mountains of pre-prepped meals that never left the kitchen.
For instance, Rachel Unger, who has also been volunteering with Food Rescue since 2018, remembers picking up dozens of leftover turkeys from a downtown hotel the day after Thanksgiving in 2020. "They said it was 50 turkeys, but it was definitely more like 75 or 80," Unger said. (That's about half a ton of poultry, assuming each turkey weighed about 15 pounds.)
Unger and her two kids, then 11 and 13, piled bird after fully cooked, uneaten bird into her 2013 Honda Odyssey.
"The minivan was almost scraping the floor because it was weighed down with all these turkeys," Unger said. She drove them to the Miami Rescue Mission where she and her kids helped haul the food into the facility's walk-in refrigerator.
"It was one of the most bizarre rescues I've done," Unger said, "but I was on a mission to make sure those turkeys got eaten."
Climate cost of food waste
The food rescue volunteers are a good example of an old maxim in climate change activism: Think globally, act locally. Rachel Unger's short drive through downtown with a car full of turkeys was one small way to combat a problem that puts more strain on the planet than you might think.
Just to produce food that ultimately no one will eat, the U.S. farms an area the size of California and New York combined, uses enough energy and enough water to serve 50 million American homes and produces as many greenhouse gas emissions as 42 coal-fired power plants, according to the EPA.
That's before you factor in the emissions that come from throwing food away. Food is the most common material in American trash, accounting for 24% of what goes into landfills and 22% of what goes into trash incinerators, according to the EPA.
Burning food produces carbon dioxide, while leaving food to rot in landfills produces methane gas, which traps heat in the atmosphere much more effectively than carbon dioxide.
And in South Florida, that landfill space is running out. Miami-Dade County now trucks 15,000 tons of household trash a month to a landfill near Lake Okeechobee because local landfills are filling up. Residents in Doral, meanwhile, complain that the county-run trash incinerator, which burns 800,000 tons of trash a year, is ruining their quality of life.
The simple act of throwing away less food is a triple threat. It eases the strain on landfills, reduces the amount of natural resources the agricultural industry uses to produce food and cuts the amount of methane released into the atmosphere.
Fighting hunger and climate change
Dealing with that last piece is critical. The best thing people can do to immediately help the climate is to produce less methane, according to a May 2021 report from the United Nations Environment Program.
"Cutting methane is the strongest lever we have to slow climate change over the next 25 years," UNEP director Inger Anderson wrote in a statement accompanying the report.
Just as important as the volunteers who rescue food are the organizations that put it to use. All these groups are part of the fight to curb climate change, even if they don't necessarily think of themselves as having an environmental mission.
The Miami Rescue Mission, for instance, exists to offer beds and meals for about 1,300 people a day at its Miami centers in Wynwood and Overtown and its Broward County outpost in Hollywood. But the nonprofit also puts tons of donated food on the table each year for people who need it.
On Jan. 30, a Food Rescue volunteer named Linda Diaz-Cobo dropped off a tray of leftover Cuban sandwiches from the midtown restaurant Sugarcane.
"Anybody can pull up and donate," said Anthony Perrone, food service coordinator for the Miami Men's Center. "It could be someone with a couple of loaves of bread or it could be a whole truck full of food."
Village FREEdge
Donated food can also have a broader impact on local communities. Once a month, Food Rescue US hosts "farmers market" style events in different neighborhoods where residents can load up a tote bag of food for free. January's event was at the Village FREEdge, one of the pantries where Food Rescue regularly donates.
Sherina Jones, who started the Village FREEdge in 2020, noticed that many of the people she was feeding also needed medical care. So, volunteers at the University of Miami medical school, led by internal medicine doctor Armen Henderson, set up a free health clinic next door.
Case workers from Henderson's non-profit Dade County Street Response team began working there to help visitors set up follow-up appointments with specialists, get their immigration papers in order, sign up for insurance or even find a safe place to stash their bicycle during a hospital visit.
"This is a lifeline for our community," said Earl Green Slade, 75, who started coming to the pantry regularly in November. "I appreciate what they do. Without them, I don't know how I would eat some days."
Since the January farmer's market event, the Village FREEdge food pantry and health clinic have been evicted from their building following a dispute with their landlord involving a collapsing roof, unsafe structure notices and a year of withheld rent. Food Rescue US continues to donate to the Village FREEdge at a temporary location down the street.
People interested in volunteering can sign up at the Food Rescue US, South Florida chapter website. Businesses interested in donating food or nonprofits interested in receiving donations can reach out to Bowen via email at [email protected].
This climate report is funded by Florida International University, the Knight Foundation and the David and Christina Martin Family Foundation in partnership with Journalism Funding Partners. The Miami Herald retains editorial control of all content.
Take the climate fight to your own kitchen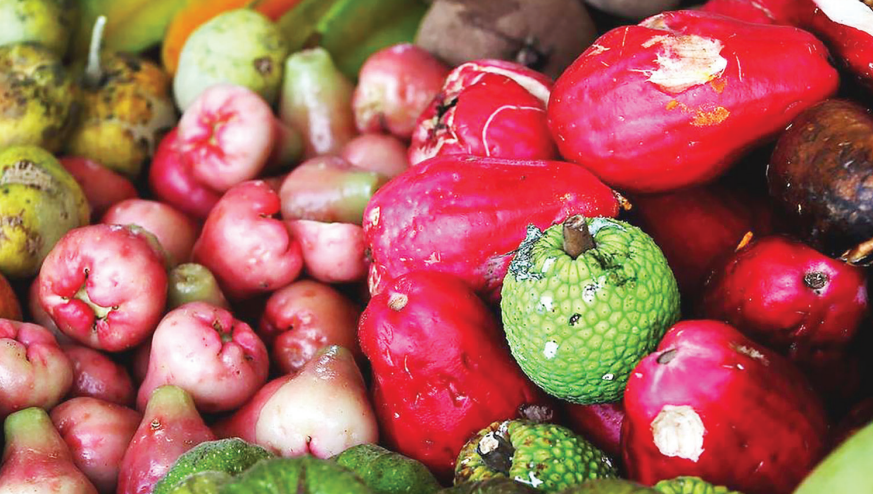 Most climate change solutions are out of reach for the average person: You, yourself, cannot install an offshore wind turbine on a weekend to cut the carbon emissions of your local power grid. Even the solutions you might have control over — like buying an electric car or installing a solar panel on your house — are still expensive investments (even with recently passed tax incentives).
But there's one way that anyone can join the fight against climate change: Waste less of your food.
Food waste is responsible for 8% of global greenhouse gas emissions, according to the U.S. Environmental Protection Agency (EPA). U.S. households threw out more than 21 million tons of food in 2019, according to the nonprofit ReFed.
Bringing that number down will help reduce the amount of planet-warming carbon dioxide and methane that wasted food releases into the atmosphere — and also save you money on your weekly grocery bill.
"It's one of the few things that everybody could do," said Ellen Bowen, who founded the South Florida chapter of Food Rescue US, a national nonprofit that collects food that would be thrown out at grocery stores and restaurants and donates it to charity. "You can do it in your own home, just by shopping smartly and using your leftovers and being creative about what you're preparing."
The best thing to do is to eat your food rather than compost it. Composting is certainly better than throwing food in the trash: It creates great fertilizer for your garden and doesn't produce methane emissions like food that rots in landfills. But composting can't prevent the waste of land, labor, energy and water that went into producing perfectly good food that someone could have eaten.
Here are a few tips, rounded up from the EPA, the U.S. Food and Drug Administration and the Mayo Clinic, for preventing food waste in your own kitchen.
Before you shop
Check your fridge before you go to the grocery store. It'll help you avoid accidentally buying things you already have. It'll also give you a chance to take stock of the odds and ends you need to use up before they go bad. Plan meals around them before you go to the store.
At the grocery store
Don't make aspirational purchases. Buy the foods you know you'll eat; don't stock up on things you think you should eat but, in reality, will just sit unused in your fridge or pantry until they go bad.
Remember that buying in bulk, or taking advantage of BOGO deals, will only save you money if you actually eat everything before it spoils.
Buy "ugly" foods. Many fruits and vegetables have physical imperfections that won't make them any less tasty when you cook them and eat them.
In the fridge
Know your refrigerator's warm and cool zones. The lower shelves of your fridge are the coolest part. Keep meat and dairy here. The door is the warmest place in your fridge. Try to avoid putting milk here because it can spoil faster.
Keep fruits that release ethylene gas (like bananas, apples and avocados) away from your other produce. Ethylene makes the rest of your produce ripen — and rot — faster.
Store fresh herbs with their stems in a glass of water. Like flowers in a vase, they'll stay fresher for longer.
Don't wash berries, cherries and grapes until you're ready to eat them. It'll keep them from getting moldy.
Know the difference between "best by," "sell by" and "use by" dates. With the exception of infant formula, you don't have to throw out food that is approaching or even past these dates, so long as they show no signs of spoilage. (Use your own eyes, nose and judgment!)
Create a "use me" zone somewhere prominent in your fridge. Put all the food you think you need to use soon in one spot, so that you'll see it and remember its existence every time you look inside the fridge.
Learn some recipes you can use to clear out your fridge. You can always throw your odds and ends into a soup, casserole, stir fry or frittata. Old bananas are perfect for banana bread. Stale bread makes for great croutons and French toast.
This climate report is funded by Florida International University, the Knight Foundation and the David and Christina Martin Family Foundation in partnership with Journalism Funding Partners. The Miami Herald retains editorial control of all content.