Many of these announced layoffs are in the future and won't be in the US and won't impact the US labor market. But we got data on actual layoffs and discharges in the US today.
By Wolf Richter for WOLF STREET.
Salesforce "announced" a "plan" today. According to this plan, it may lay off 10% of its global workforce, and these layoffs, it said in the SEC filing, will be "substantially complete" by the end of "fiscal 2024," so by January 2024, "subject to local law and consultation requirements."
These are future layoffs that will take place "mostly over the coming weeks" and may be completed by January 2024. The layoffs may total 8,000 people, based on the number of employees the company had. They're global: Some will be in the US and some will be in other countries, as Salesforce said specificially. Layoffs in other countries will not impact the US labor market. And some of them will be H-1B visa holders, who have 60 days to find another employer to sponsor them, and if they cannot, they're expected to leave the US.
This is what layoff "announcements" mean. This has been the same principle with all big-company layoff announcements that get hyped in the media: they're announcements, many of them will take time, and they're global, and only part of them will be in the US.
So layoffs.fyi combs through media articles and company news releases, and it tracks the published number of announced future layoffs on a spreadsheet. It also links the article from which it cited the info.
This morning, layoffs.fyi added Salesforce to its list, with "# laid off 8,000" (past tense, as if those layoffs had already been done!). It said the "location" is the "SF Bay Area." And it cited the source: a New York Times article (click on the screenshot to enlarge):

Also, it lists announcements from companies that are headquartered in other countries – such as China, India, Singapore, the UK, the Netherlands, Canada, Germany, etc. – and it totals them all up with the US-headquartered companies, as total global layoff announcements. Those announcements aren't about US layoffs either.
That type of tracking of announcements is interesting. Another company – outplacement firm Challenger, Gray & Christmas, Inc. – has long been tracking and publishing layoff announcements by US companies of their global workforce. So this is not new. And it produces similar interesting results that are largely irrelevant for the US labor market: They're just announcements and no one knows what portion of them will eventually even be in the US.
In other words, layoffs.fyi says zero about actual layoffs by Salesforce in the US. And it misleads its readers about when those layoffs happen – the Salesforce layoffs haven't started yet.
We don't know how many Salesforce employees in the US will eventually be laid off in the end. And if a company drags this out long enough, regular attrition, such as people quitting because they got a better job, will replace layoffs, and actual layoffs will be lower. Many companies announce layoffs to boost their stock price – Salesforce [CRM] jumped 3.5% on the announcement – and then the layoffs never happen to the extent announced.
A feel for actual layoffs and other discharges.
If we want to know how many people in the US actually got laid off, we cannot get this information from layoffs.fyi. It tells us nothing about actual layoffs in the US by Salesforce, but about its plans in the future to lay off 10% of its global workforce.
And yet, the financial media keep citing these figures as if they were actual US layoffs, including the Wall Street Journal today, when it said, in the past tense, as if it were an accomplished fact: "Collectively, tech employers cut more than 150,000 jobs in 2022, based on estimates from Layoffs.fyi…" No, no, no, they "announced" x number of layoffs of their global workforce, not their US workforce. And no one knows what their actual layoffs in the US were.
To get a feel or actual layoffs and discharges of workers in the US we can look what companies reported to the US government in a variety of huge surveys, including the data from the Job Openings and Labor Turnover Survey (JOLTS), released by the Bureau of Labor Statistics today. The companies report the actual number of people that they laid off or discharged during the survey period. Today's data is for November, so the number of workers they laid off or discharged for other reasons in November. And it covers all US employers, not just tech and social media.
"Announced" global layoffs not moving the needle of actual layoffs and discharges in the US.
Across the US economy, there are always a lot of layoffs and discharges, even during the best of times. This is part of the normal churn in the labor market.
Employers laid off or discharged for other reasons 1.35 million people in November, down by 95,000 from October, down by 24% from November 2019, in the same historically low range since April 2022, and far below the best of times before the pandemic, going back to 2000, according to the JOLTS data, released today, based on what 21,000 employers said about the number of people they laid off and discharged.
Historically low unemployment Insurance claims confirm the needle is barely moving.
Initial claims for unemployment insurance, at 225,000 in the last reporting week, have inched up from record lows, but are in the same low range as before the pandemic, according to the Labor Department last Thursday.
This is not based on surveys, but on actual applications for unemployment money by people who've lost their jobs. There just hasn't been the surge of applications that I'm waiting for: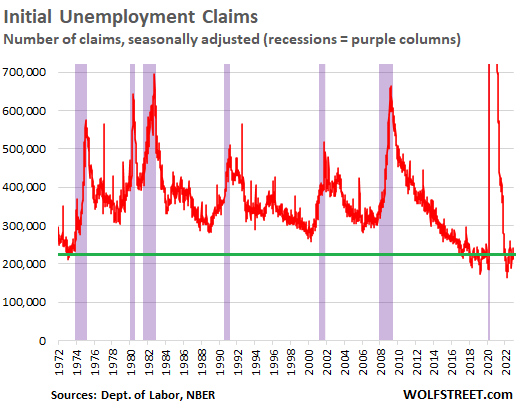 And the number of people who are still claiming unemployment insurance at least one week after the initial application for UI – people who haven't yet found another job – rose to 1.71 million, according to the Labor Department last Thursday.
This is still historically low, in the same range as during the hot labor market in the two years just before the pandemic. But it has risen from the all-time record lows in June, indicating that the trend lower has reversed, that the labor market is getting a little less tight, and that some of the laid-off people are now having to look longer to find a new job. That 1.71 million continued UI claims is lower than any time in the decades from 2018 going back to 1974.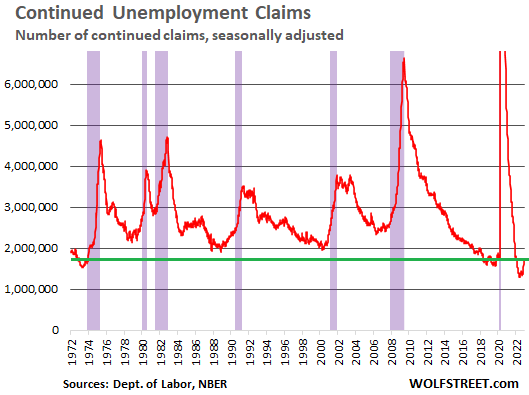 Enjoy reading WOLF STREET and want to support it? You can donate. I appreciate it immensely. Click on the beer and iced-tea mug to find out how:

Would you like to be notified via email when WOLF STREET publishes a new article? Sign up here.

link