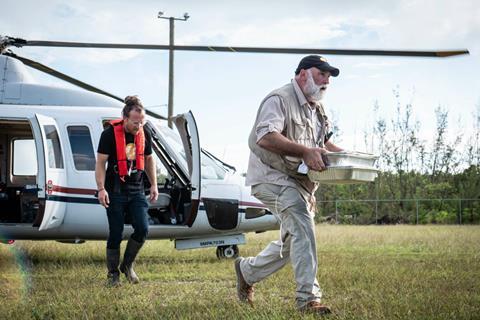 Dir: Ron Howard. US. 2022. 89 mins.
We Feed People focuses on celebrity chef Jose Andres, who more than a decade ago began to work in humanitarian aid, founding World Central Kitchen and dedicating himself to providing food for those imperilled by natural disasters. Ron Howard's informative documentary shines a spotlight on a worthy cause, but no matter how admirable World Central Kitchen's efforts are, the film still fails to be a compelling portrait, offering a polished but superficial overview of both the non-profit and the larger-than-life figure who guides it.
As a documentarian, Howard specialises in breezy snapshots of famous individuals, providing biographical information in an accessible, undemanding package. 
Premiering at South by Southwest, this National Geographic release will come to Disney+ starting May 27. We Feed People could cater to different crowds: foodies should enjoy getting a glimpse of Andres' world, while those looking for feel-good fare may be moved by World Central Kitchen's commitment to helping those most in need.
Now 52, Andres is a magnetic individual, moving from Spain to America in his youth to make his name as a chef — although he prefers to be called a cook since he does not relish the responsibilities that come with running a kitchen. After witnessing the chaos that occurs in the aftermath of earthquakes, volcano eruptions and hurricanes, he was inspired to form a non-profit that flies into devastated areas, bringing food to the hungry as they try to rebuild their lives.
As a documentarian, Howard (The Beatles: Eight Days A Week, Pavarotti) specialises in breezy snapshots of famous individuals, providing biographical information in an accessible, undemanding package. We Feed People adheres to the formula, for the most part, introducing us to Andres, his wife and three daughters, all of whom tell affectionate stories about this man with a big personality and an even bigger heart. But Howard expands the scope by following Andres as he travels to different parts of the planet, assisting people in, for instance, Haiti or the Bahamas after their communities have been wiped out. Like a well-oiled machine, Andres and his team at World Central Kitchen start making meals — even if they are as simple as sandwiches and a piece of fruit. In the middle of such trauma, it is often overlooked how important it is to eat.
But what inspired a rock-star chef to devote his energies to humanitarian aid? Andres offers bromides that, while certainly sincere, fail to provide insight into his psyche. He briefly mentions his parents — in particular, a difficult mother — which he thinks may have prompted him to leave home and find himself, but the documentary easily accepts its subject's answers, declining to dig deeper.
Consequently, We Feed People can't help but come across as a well-meaning promo for World Central Kitchen, observing as the non-profit problem-solves on the ground. There is no denying the importance of Andres' cause — in fact, he is currently in Ukraine feeding those displaced by the war — but because we never sense Andres' personal compulsion to be away from his loving family for so long to feed the hungry, his good acts don't feel anchored. 
It is interesting, then, that the documentary has more luck with some of Andres' colleagues, including Sam Bloch, who handles relief operations and explains that his brother's fatal self-sacrifice years ago prompted him to pledge to help others, too. Occasionally, we meet World Central Kitchen employees out in the field, their stories creating a tapestry of empathy. Also affecting are We Feed People's final stretches, which bring us closer to the present as Andres and his organisation grapple with the pandemic's horrifying effects on the global food supply.
Yet, the larger issues at play feel frustratingly out of reach, including a more rigorous examination of the reasons why natural disasters such as fires and hurricanes are happening more frequently in recent years. We learn that Andres can be a brash, volatile man — it is a pity, then, the film about him tends towards the timid.
Production company: Imagine Documentaries
Worldwide distribution: Disney
Producers: Brian Grazer, Ron Howard, Sara Bernstein, Justin Wilkes, Meredith Kaulfers, Walter Matteson
Editing: Andrew Morreale
Cinematography: Kris Kaczor
Music: Sami Jano

link